Common Core 'Check' With Excerpt From "Rotten Core"
|
Common Core news from the past few days has been completely dominated by the fictitious "check" that a frustrated dad put online.  The dad captured the frustration that millions of parents feel toward the exams and  methods of instruction quite humorously.  Fox News had this to say:
An Ohio dad frustrated with Common Core cut a check to voice his disapproval, and got more than his money's worth after posting a picture on his Facebook page.
Exasperated with a math style that has bedeviled parents around the country, Doug Herrmann, of Painesville, made out a check to Milridge Elementary, filling out the "amount" line with a dizzying array of zeroes and x's in boxes. Although he told Fox8.com that he tore the check up and later seemed reluctant to lead the charge against Common Core, it was too late after the photo went viral.
Here is a picture of the check (Doug Herrman)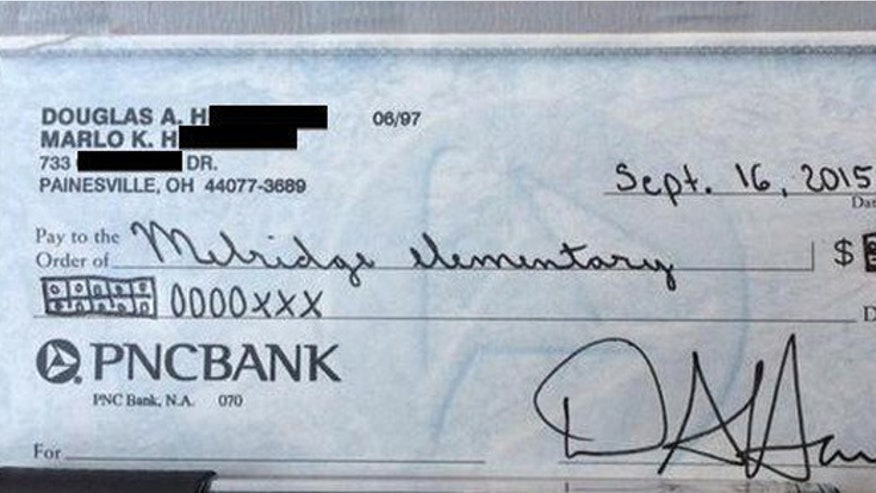 As we have pointed out before on this site, Common Core math requires students to run through a dizzying amount of steps in order to complete math problems that would have been solved ten years ago in a fraction of the time that it takes today.
The following is an excerpt from my book "Rotten Core: How The Common Core Is Ruining Our Children's Futures And What We Can Do About It"
Having spent years in the classroom teaching math, I have one overarching philosophy during my classes; "Simplify the process." Whether in classes with exceptional learners or those students relegated to "intensive" courses, the optimal path to learning involved taking a complex math problem and demonstrating to students the simplest possible way to determine a solution in the least amount of steps. That's it. As a teacher, if I am not keeping the process simple, I feel that I am doing a disservice to my students. Even in the most basic levels of algebra, any extra step in the process of solving a problem wastes time and opens the door for a potential mistake to occur. It stands to reason that effective instruction involves reducing the amount of steps to solve a problem rather than creating extra unnecessary work. Yet, looking through the problems above, the 'Common Core' method seems to do just the opposite.
When my daughter grows up and buys food from the grocery store, I would like her to be able to add up the price of what she is purchasing mentally. Yet we are training our children to take out slips of paper and use a wide array of arches and/or groups of circles and slashes to come to the same conclusion that they should have arrived at in under 15 seconds (and with a fraction of brainpower) under the previous, infinitely more efficient methods.  
I am absolutely advocating that parents fight back against the Common Core.  Don't forget that no matter what state you reside in, you have the right to opt your child out of the exams.  Opting out is absolutely necessary.  Railing against Common Core at the local level will not change national policy.  Only when politicians see us refusing to take Pearson's test en masse will they get the hint.  Only when they see that fellow politicians who support the Common Core are not being re-elected to office will they be motivated to remove this disaster from our classrooms.
-Brook Putnam
Please stop by and sign our Petition To End The Common Core Exams.  My e-Book "Rotten Core: How The Common Core Is Ruining Our Children's Futures And What We Can Do About It" is available for purchase for only 99 cents right here.